Jungle Creatures
Click the animal picture to jump to the next animal!
Peafowl live in Indian and southern Asian forests, farms and temples. They eat roots, seeds and insects. The female (peahen) is small and camouflaged but the male (peacock) is famous for his beautiful feathers. Peacocks have been a beautiful addition to human lives for over 4000 years!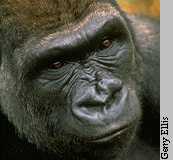 Gorilla
Gorilla gorilla gorilla
Every creature asks only this: a place to throw a shadow on the earth, to root, to sip rain. This is not much, but everything. And now, we are the ones who say no or yes.
But then he began climbing. His magnificent red hair glistened and he brachiated in perfect orangutan style, using every vine to travel.
Add your thoughts about an animal?
Special thanks to Woodland Park Zoo for some of these animal portraits!